HIA North Qld Most Professional Builder (Medium) – Keir Constructions
Well done to Brad and the whole team on winning the big award for 4 years in a row.  Now bring on the national finals!
It is a pleasure working with you!
Visit Keir Constructions Website Click Here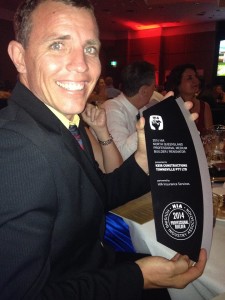 HIA Awards Townsville
Townsville builder Brad Keir of  Keir Constructions has an excellent example of how to use a guarantee.
His guarantee is "We guarantee to complete your home in 80 working days."   If he doesn't he will pay your rent or the equivalent.  To my knowledge no one else in Townsville as such a clear and specific guarantee, and I am pretty sure that Brad will be having some fun soon with "80 Days" theme.  [Remember Jules Verne – Around The World in 80 Days?]
He now owns the "80 Days" position.  And anyone who comes along and tries "79 Days"  will meet the same fate as those Pizza shops that took on Domino's  "Piping hot in 30 minutes or it is free".  ie not much success.
According to Ries and Trout in their seminal [an interesting word?] book "Positioning", Brad has set up a strong marketing position, which will make it far easier to focus all marketing activities.
He has also been organized enough to put testimonials and photos that support both his timely building, the quality of the building and the client satisfaction on the guarantee page and throughout this new site.
Great to see some good marketing here in Townsville.
If you come across more good examples – please post below.
Cheers
James Hooper
Business Coach Townsville